---
READ TIME: ~3 minutes
tl;dr: Netflow can now be created from public cloud packet traffic and distributed to security and monitoring tools. Nubeva has new netflow generation capability as part of Nubeva Prisms and has partnered with Flowmon to make the solution immediately available.
Sign up for private preview of Nubeva's NetFlow / IPFIX service: https://info.nubeva.com/netflow
---
On May 16, Nubeva announced private preview availability of its new NetFlow / IPFIX service. The NetFlow service offering changes the game in the public cloud. Now IT teams can use a Nubeva Prisms agent, or any cloud tapping service, to aggregate raw packet traffic and send it to Nubeva's Elastic Packet Processor (EPP) to be turned into Netflow and forwarded on to tools.
IT organizations have used NetFlow for decades. It's commonly used in the data center to assist with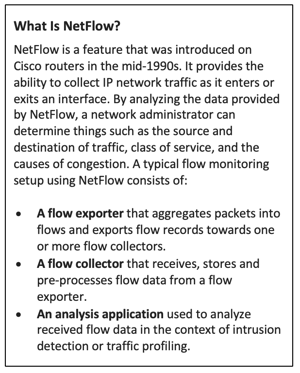 diagnostics, troubleshooting and general performance monitoring. Netflow is also important for network optimization planning and in support of deep network visibility for DevOps, NetOps and Security teams. NetFlow remains one of the most efficient ways to collect and store information about the endpoints, communications, applications, and users that make up the organization's critical business infrastructure.
When organizations move resources to the public cloud, the ability to capture and distribute NetFlow / IPFIX becomes a challenge. It is much harder to collect data in a cloud platform where servers are virtual machines, connected via the cloud platform provider's virtual network. In fact, security and network monitoring can feel like a fruitless endeavor in the public cloud unless IT teams can somehow apply a data-center like approach in the cloud to leverage NetFlow.
The gradual migration of assets into the public cloud brings new questions to the fore:
How can IT teams get visibility to ensure demanded user experience?
What new cloud monitoring tools can assist with managing data to address security threats and performance issues?
With Nubeva's recent announcement, NetFlow again becomes available as an important component of the solution to both network performance monitoring and visibility.
Here's how it works:
A cloud tapping agent like an Azure VTAP or Nubeva agent captures cloud packets and the packets are aggregated and sent to Nubeva's Elastic Packet Processor (EPP) which is running in the customers data plane.
The Elastic Packet Processor then distills, prepares and distributes NetFlow from the PCAP.
Cloud and IT team can quickly set a destination (any routable IP address) using Nubeva's Prisms management system, sending the NetFlow to the network performance and monitoring tools of choice.
Working with its new partner, Flowmon Networks, Nubeva's NetFlow service is available in a joint solution that leverages NetFlow / IPFIX technology to overcome cloud traffic monitoring limitations and bring on-premise performance and security monitoring to public cloud environments.
Nubeva Prisms provides a tapping service for cloud environments where traditional L2 tapping does not work or is not available from the cloud providers. Organizations can leverage their Azure vTAPs deployment or use Nubeva Prisms agents in AWS, Azure or Google Cloud for tapping. Nubeva's Elastic Packet Processor provides Flowmon with raw network traffic data as well as NetFlow / IPFIX for further storage and analysis. IT teams can then analyze the critical data to resolve performance issues, identify optimization opportunities, detect security threats and ensure infrastructure across different environments to support business-critical services.
Flowmon Networks CEO Jiri Tobola notes that cloud resources will never be a black box anymore. "This partnership with Nubeva enables our customers to ensure the same degree of control over their cloud resources as they use to have over on-prem infrastructure."
To access Nubeva's NetFlow private preview, simply go to https://info.nubeva.com/netflow enter your company email address and click "Submit." We'll walk you through the process step by step.